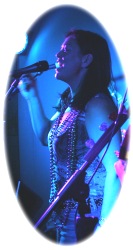 Valerie Rogers - Lead and Backing Vocals

Val's silky vocals help give Spring Street their distinct sound. Whether she's teasing out a ballad or belting out a rock anthem, Val brings the crowd to their feet time after time.

Val has a long history in music as the daughter of two accomplished musicians. She followed in their footsteps as a classically trained mezzo soprano and jazz trombonist. On the classical side, Val has continued singing as a long-time member of the Adirondack Singers, performing with them as a choral member and soloist for over 10 years. She has also been a member of the Saratoga Choral Festival for several years.

Val moved into new territory when Bill invited her to sit in with "the guys" in 2008. She started off slowly singing backup but quickly caught on to singing in a band and was soon singing lead for the group Splitrock. Her classical background has helped provide some nice harmony to the band's already great playlist and she brings some diversity with the addition of some classic female lead tunes. Though her classical roots run deep, her Spring Street alter ego is having a great time!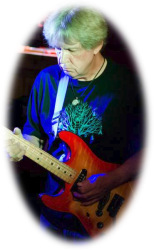 Ed Schaum - Guitars and Vocals

Ed brings 50 years of guitar playing experience to Spring Street. After making his professional debut in 1969 at the age of 15 with The Street Corner Society, Ed took the NYC circuit by storm. Over the next 15 years, Ed played with such notable groups as Time Trap, Jason Exit, People Next Door, The Runaways, Cage, The East Coast Band, Infinite Space and Marley's Ghost. During the 80's and 90's, Ed honed his skills on acoustic and classical guitar, playing selections by such artists as Steve Howe, Al DeMeola and Andres Segovia. This culminated in the release of Ed's critically acclaimed solo album, Millennium Guitar.

Next, Ed collaborated via the internet with a keyboard player in Texas and together they formed Dreamship, the virtual band. In early 2002, Dreamship released their original album, Ancestral Voyage, the first Internet Album.

After moving to the Adirondacks, Ed was first seen with Bitter-Sweet, Trouble In Paradise, and Split Rock before handling lead guitar with Spring Street.

In his free time, Ed enjoys fishing, computer programming, amateur radio and astronomy and is a founding member of the Adirondack Public Observatory.

In 2020, Ed was the lead guitar player in the Pendragon Theatre production of "Life, Love, and Legends"


Josh Pratt - Drums and Vocals

Josh started playing drums in the fourth grade, and played continuously in school and in various bands through high school and college. After living in Lake Tahoe, California for 3 years, life came ahead of drums and he sold his kit 2003 and moved to Tupper Lake to be closer to family on the east coast. Always drumming on his djembe for 7 years without a kit, Josh bought a new kit in 2010 and the sticks were back in play. He manned the drums at the weekly open mic night at Trails End for 3 years and joined the blues/rock/original band, The Jones Boys.

For the past 10 years Josh has had the privilege of playing and sharing the stage with high caliber musicians throughout the tri-lakes. Playing in Lake Placid, Saranac Lake, and Tupper Lake he has become a solid member and contributor of many rhythm sections. While working at The Wild Center in Tupper Lake, Josh enjoys spending time with his 3 kids, and drumming as much as he can.